Coaching: designing effectively and sustainably
• Reduce training times
• Improve call quality
• Increase employee satisfaction
Recruiting and attrition are both major problems for the contact centre industry - which is why operators fight so hard to keep hold of their good people. In order to achieve this, contact centres know the importance of keeping employees engaged and motivated and 'feeling valued'. They also understand the impact that coaching, skills training and career development can play in generating positive employee engagement.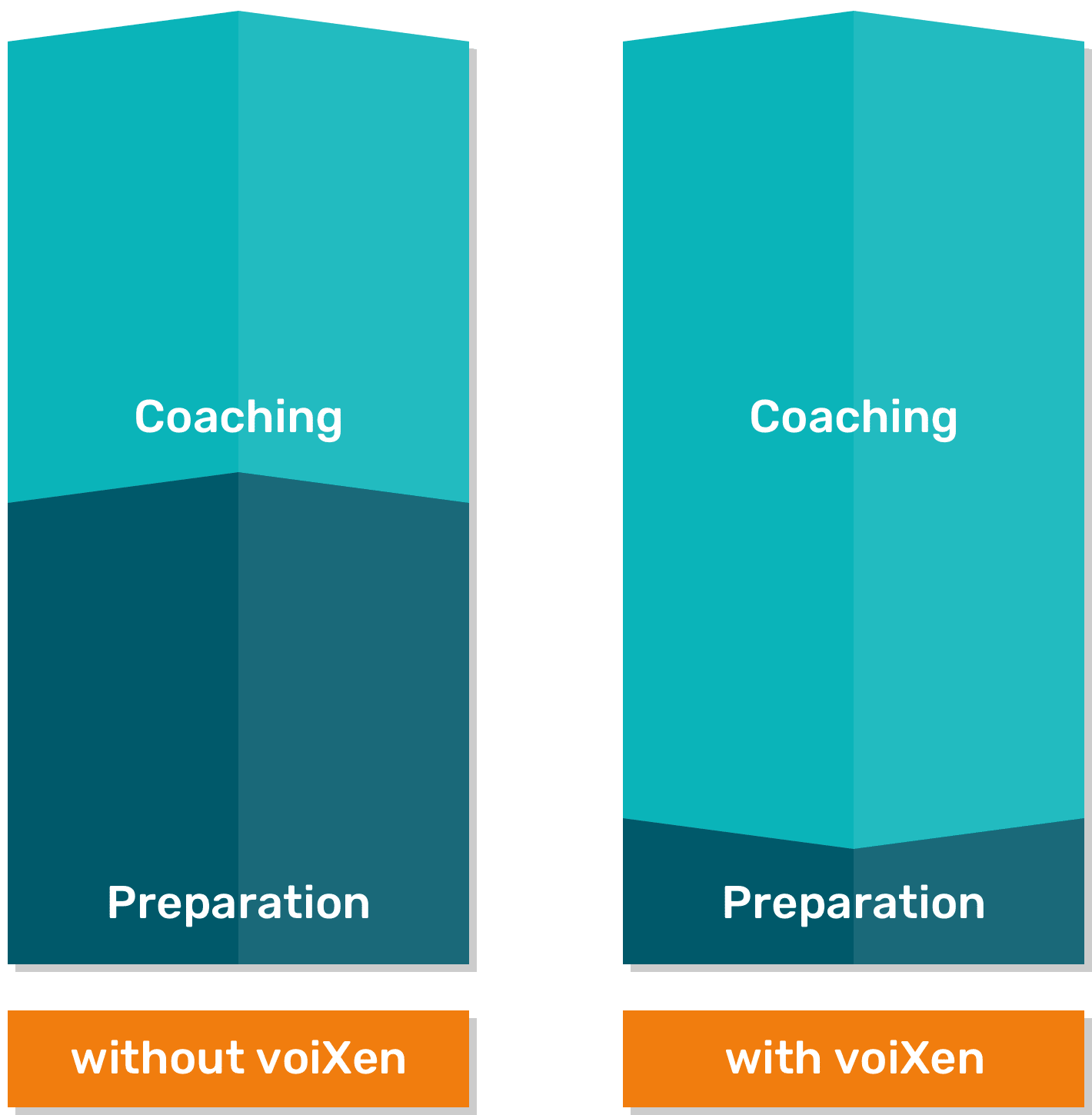 But how much time should be invested in training? And how do you manage the balancing act between the economic need, the agents' workload, and training/coaching time?
Fortunately, there is now a simple answer: Using the voiXen coaching software, you can reduce training time while at the same time improving training quality.
In addition, the effectiveness of the coaching becomes measurable. It could hardly be more economical.
Excellent quality through targeted, needs-based coaching
For effective and sustainable coaching, it is essential to know the strengths and weaknesses of your employees. By listening, recognizing keywords and assessing, voiXen can determine whether an employee uses too few or too many target phrases, how closely they follows scripts, whether they pause during conversations, and more.
Time-consuming manual quality checks based on random samples are no longer necessary. With voiXen you can define your own trigger words and limits and - perhaps most importantly - find out where your employees stand.
Coaches can find recordings of conversations at the touch of a button
Is an employee having problems with their PC and leaving long breaks in the conversation as a result? Is someone not adhering to predefined wording? Or indeed was sworn during the conversation with a customer? Has an agent interrupted a customer? Or was named a competitor?
With voiXen you can retrieve and show these results easily and clearly on a website, with secure access from anywhere. The software can also sort according to relevance, error frequency and topics, adapted to your coaching agenda.
With a single click you can see which employees should be trained most urgently, on which topics. The voiXen coaching analysis tool creates a complete list - including 'conspicuous' telephone calls -which you can use for future training.
Measuring the efficiency of training measures
Show your management, employees and clients exactly what coaching can achieve. With voiXen, you can visualise coaching improvements on your dashboard - even showing a clear quality timeline to show the development of individuals.
Results without monotonous work
At best, a person can listen to and evaluate 35 to 40 call recordings in one day. This can be a mere fraction of the calls taken in a particular day.
With voiXen's cloud-based speech analysis solution, you can now evaluate all conversations. At the push of a button you can see all your relevant criteria on your personalised dashboard - from average handling time, to first call resolution, target phrase fulfilment, employee friendliness and much more.
Increase employee satisfaction and improve call quality
Today, coaches often listen to just two to three call recordings per employee per month. Whether that includes calls that are representative of that agent's work or, conversely very good or very bad calls, is down to chance.
voiXen allows you to conduct agent evaluation based on ALL calls, creating a much fairer system of employee evaluation. And with just a few clicks, you can also create the right training plans for all your agents.
It's a win-win situation for employees, customers and your business. A fairer system and more tailored and relevant training plans will have a positive impact on agent absenteeism, attrition and engagement; the quality of conversations will be improved as you will be able to address customer needs more accurately; and with additional cross-selling and up-selling opportunities identified, this new approach will create significant bottom line benefits for your business.
voiXen - understanding the voice of your customer
Features
Coaching

The voiXen "Coaching Analysis Tool" reduces your preparation time for targeted training. Available via a dashboard display, the tool analyses the conversations of agents, highlighting issues and areas where coaching can deliver measurable improvement.

Search

In which recordings did the word "complaint" appear? How often did it appear? And did the customer threaten your organisation with a lawyer? voiXen enables you to find keywords within voicefiles in seconds (selected by time periods, persons, groups, projects etc.)

Target phrase identification

"Welcome". "Thank you for your call". "Do you know about our current offer?" These phrases may well be part of your standard call script. voiXen will tell you whether, how often and by whom these phrases are used.

Taboo tracker

"Problem", "must", "stupid" ..... these words might slip out occasionally by agents but they should be kept to a minimum. Find out how well agents adhere to their call scripts as well as evaluate the use of taboo words, how often they are used, and by whom.